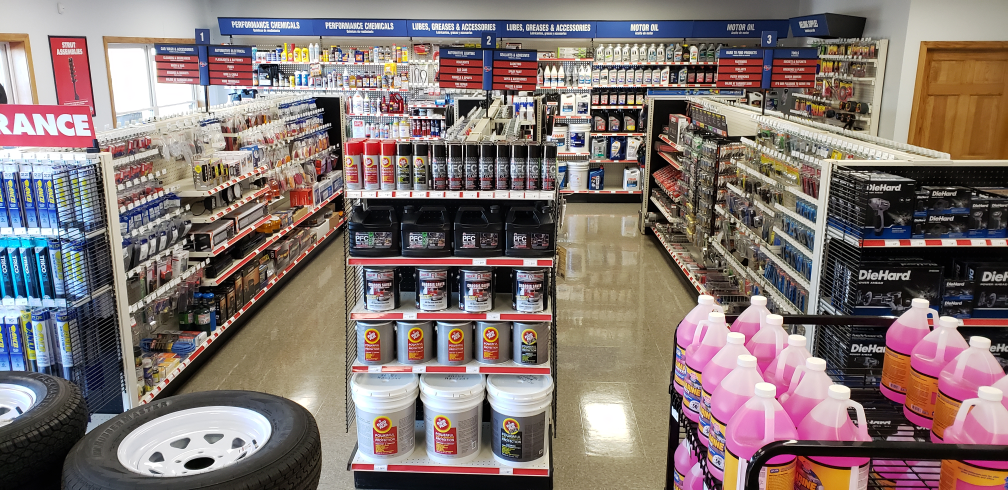 Business Hours
| | |
| --- | --- |
| Monday | 7:00am - 5:00pm |
| Tuesday | 7:00am - 5:00pm |
| Wednesday | 7:00am - 5:00pm |
| Thursday | 7:00am - 5:00pm |
| Friday | 7:00am - 5:00pm |
| Saturday | 8:00am - 12:00pm |
| Sunday | CLOSED |
The History of Carl's Auto Parts
The Beginning of
CARL'S AUTO PARTS
Carl's Auto Parts has a history, and of course, a story. This story begins in 1991 when Carl and Tim Cloukey purchased the business from Darling's Auto Parts. It would be tough to place a number on the years of experience between employees and family at Carl's - but it can be summed up with one word: countless. In the past, present and the future, there's one constant that has, and will, keep us going. That's the loyalty our customers have demonstrated. We're not simply happy about our customer loyalty - we're humbly HONORED to have them as customers; we consider them extended family.

Building the
FAMILY BUSINESS
During the subsequent years, Carl and Tim built the family business, and developed the reputation and success that Carl's Auto Parts still enjoys to this day. Like everything else in life, it took hard work, dedication, and the ability to earn, and keep their customer's loyalty. Which is the key to their success.

For thirteen years, Carl and Tim worked side-by-side, making Carl's the premier auto parts store in the Lincoln area. In 2004, Carl passed away, and Travis came on full time to work beside his father, Tim.
Continuing
SUCCESS
Tim and Travis have worked side-by-side to grow their family business, and success. In 2013, that drive to be the best lead to the need to expand their storefront. Carl's Auto Parts moved from it's 22 year home on Taylor Street to their current address at 30 River Road. 

Tim and Travis have never forgotten the work and dedication needed to build success; not only from themselves but their dedicated employees as well. And of course, the customer loyalty they've never taken for granted.
Carl's Auto Parts Mission
At Carls Auto Parts, customer service is driven by Independent owners who are passionate about delivering excellence in everything they do. This dedication is enhanced by best in class product and experienced parts professionals. We serve our communities with a high level of integrity and passion in what we do . We deliver the right products to the right place at the right time.
Contact the Carl's Auto Parts Team
We define teamwork! The Carl's Auto Parts team has more than 75 years of combined expereince in the automotive, light and commerical trucks, and heavy equipment parts industry. Let us help you find the right part for your needs.